This project was a custom knife sheath for a Damascus knife, including the inset of several existing turquoise stones.  We begin with a drawn-out plan, then begin fitting that plan to the knife.
Selection of appropriate leather, cutting the pieces, punching the stitch line, carving the leather, and embellishment come next.
All stitching is hand-done.  Retained the silver settings of the turquoise stones while setting them into the leather.
Front side of this right-handed, belt-mounted, crossdraw sheath.  This sheath is designed for a two-finger draw and holds the Damascus knife closely, even upside down.
---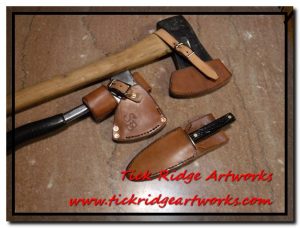 A customer ordered sheaths for Ax, Hatchet, and Knife and wanted them "ready to work". These sheaths are oil-treated, and that's all!
Interestingly, the hatchet was purchased at the national Boy Scout Convention in the 60's, and the knife is an old family tool that sharpened-up like a razor.
Hand-peened copper rivets are used on the ax and hatchet sheaths. All sewing is hand-done with thin hemp thread, used because of exceptional strength. Primary leather is a thick vegetable-tanned cowhide. Straps are a thinner vegetable-tanned cowhide.
The Ax sheath includes a thick welt to accommodate the ax head and protect stitching.  Contact cement is used in all 3 sheaths.
The Hatchet is done in 2 pieces (belt loop and sheath) because the tool won't always be carried on a belt.
The Knife sheath is stitched, without rivets, to protect edge and tip.  Fold-over belt loop has been skeeved, but still has enough lower edge to help retain the knife.  To draw, tip the knife handle out a bit and it will slide past that edge.