Dog Collars can be ordered in standard sizes and colors, or they can be customized with different hardware, embellishments, and finishes.  Below, we show the standard colors, which are green, pink, saddle tan, red, and dark brown.  (Colors will vary somewhat because of leather properties.)
---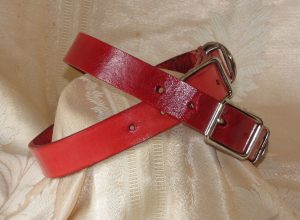 This photo illustrates the difference between pink and red.
---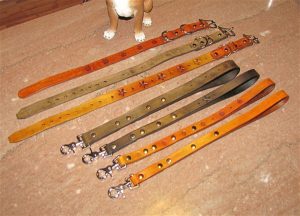 Here, we see collars along with our Short Lead.  This lead is ideal for keeping your pup "at the heel".  It is also handy for restraining your pup in the car – just pass the seatbelt through the loop.  The examples shown here were assembled with nickle-plated steel rivets.  We also have a model that uses the heavier copper harness rivets.
---
The above examples show personalized collars with names and embellishments.
---
Here, we show some of the work in preparing your custom collar.